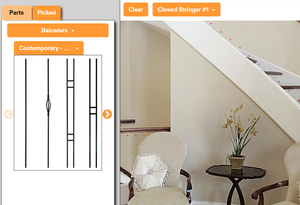 Free Stair Design Tool
Visualize your staircase ahead of time with our Free Design Tool. Our catalog of parts makes it easy to mix and match to create a design unique to you.
USE FREE STAIR DESIGN TOOL
"Arrived much faster than expected in good shape. Nicely grained hardwood that I stained and sealed. Used to hold up a wood countertop. Bought 2."
Great quality. Well packaged. Was unable to find this at my local lumber supply and these 2 posts completed my stair reno. Perfect!
- Tara
The newel posts are beautifully made. Customer service was fantastic. My only issue was these posts are solid, not a traditional box or hollow post. It just changed the way I fastened it.
- Michael
Great Quality. I was stressing over this purchase, and it turned out wonderful. I purchased the balusters from this seller and I am very happy.
- John
Item is very high quality beautiful and packed very well
- Kimberly